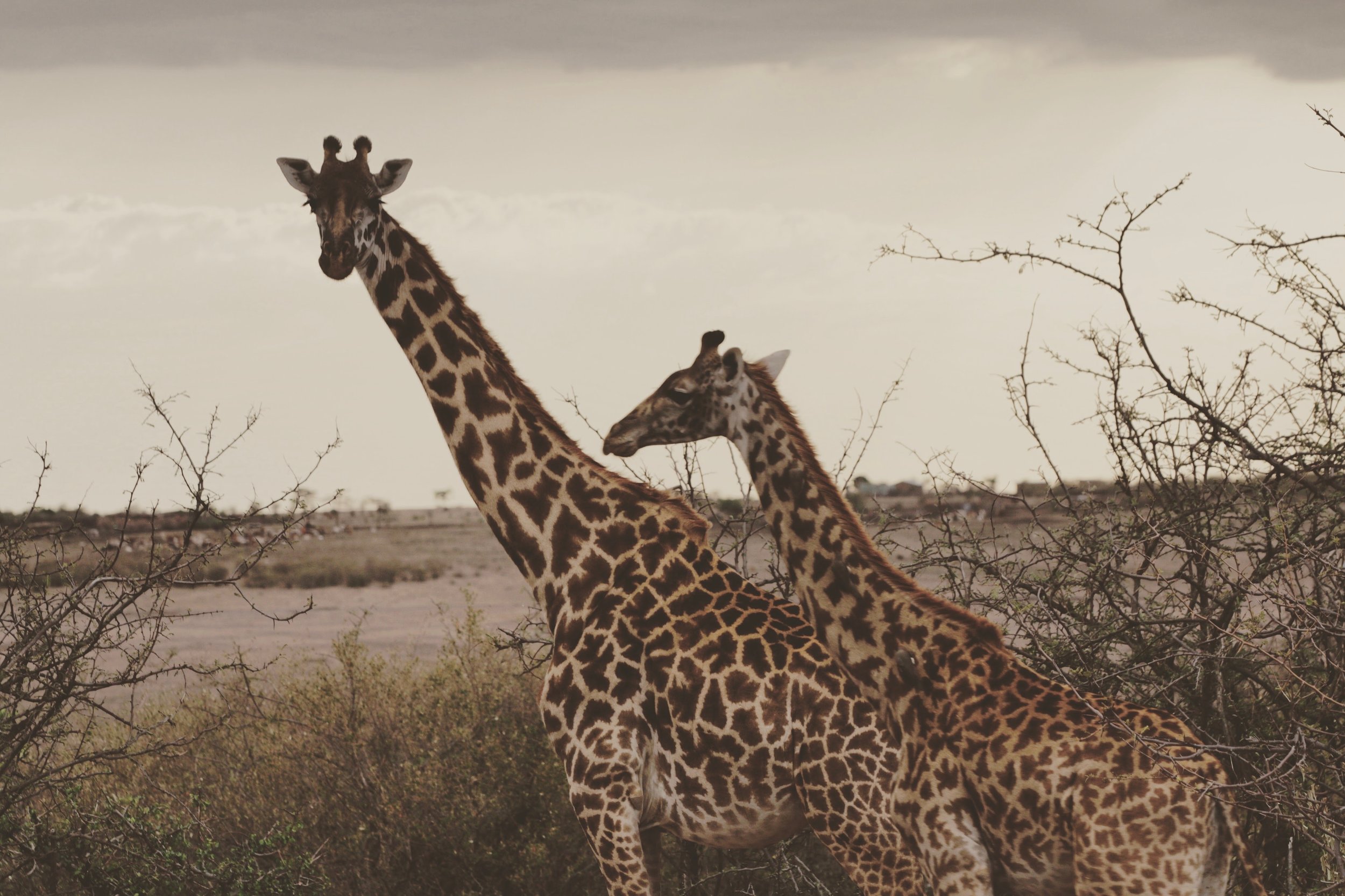 Two of our beloved giraffes stand in Nashulai, on the edge of a village. You cannot effectively separate humans and wildlife here in the Maasai Mara region; the only option is to learn to coexist and thrive together.
Nashulai is a Maasai-community founded and run conservancy, and we are dedicated to its success.
we came together to create Nashulai specifically because we're concerned about the increasing threats to wildlife from habitat loss, fencing, human-animal conflict. we saw that the only way to survive was to take personal responsibility for protecting the animals, the ecosystem we all inhabit, and our future.
Most wildlife conservancies separate people and wildlife on either side of a fence. Nashulai is different. Here's how and why:
Doesn't "wildlife conservancy" mean no people living there? Isn't the point to preserve the environment in it's natural state?
Traditionally, yes, "wildlife conservancy" has meant exactly that; no people or housing, just nature in a protected, isolated state. Most conservancies still follow this model, and in certain environments and situations it is a valid course of action to protect critically endangered species or ecosystems.
However, new research is showing that this may not be the best and only way to protect nature, particularly in the Maasai Mara ecosystem.
There are several problems that arise in Kenya when you try to isolate humans and wildlife: they center on land use and migration patterns.
For thousands of years the Maasai lives sustainably and respectfully with the wildlife, and the wildlife with the Maasai. The people grazed their goats and cows alongside the giraffes, elephants and rhinos, and built their homes --bomas--to keep their children and animals safe from the big predators. Many animals need to migrate with the seasons, and herders need to be able to rotationally graze their livestock with a similar level of flexibility in response to seasonal, weather and grassland quality changes. So trying to separate these two groups and keep them penned in different enclosures, even very large ones, isn't always a viable option.
We believe conservancy means preserving and regenerating the land to its healthiest, natural state which protects the wildlife and nurtures the human inhabitants as well.
In the case of Nashulai, that means a holistic, traditional land use model. We have created a "mixed-model conservation system", providing careful "managed grazing" of our cows, sheep and goats in among the elephants, rhinos and gazelles, just as the Maasai have done for centuries, at agreed times of year and agreed numbers, with a fine-system for illegal grazing. We monitor the land and rotate the locations where grazing is allowed to make sure no area gets "over-grazed" and damaged, so that the land remains healthy and there is always plentiful forage for wildlife and Maasai livestock alike.
SO, NASHULAI'S BORDERS ARE NOT FENCED? SHOULDN'T THE LAND BE FENCED SO WE CAN KEEP THE ANIMALS LIVING THERE SAFE FROM POACHERS?
Many of the species tourists come to see, like elephants, need to migrate great distances as part of their natural seasonal rhythms. The animals you find in the Serengeti and Mara move between the parks and the surrounding conservancies. Approximately 30% of Kenya's wildlife is in the greater Mara ecosystem, and at any given time 70% of that wildlife is found outside national park and conservancy lands--in other words the animals move around. These migrations are critical for the animals to mate, give birth, and survive the seasonal droughts and rains.
When we put fences up around conservancies, we prevent them from migrating as they have for millennia. So while fencing them into a protected area may feel like a safe course of action, it is actually a disastrous roadblock for species like elephants, rhinos, and wildebeest which HAVE to move back and forth through all the conservancies and parks throughout the year.
Our Nashulai area is recognized as a critical migratory corridor linking the Maasai Mara national park and three other major conservancies. It is also the home of an ancient elephant birthing place and "nursery."
So in 2016-17, when we created the 6000 acres of Nashulai Maasai Conservancy, the first thing we did was to take down the fences that had been erected on our land. And the dream has come true: a large tribe of lions has returned, and giraffes and elephants have again given birth there. a dream is becoming reality.
WHAT ABOUT HABITAT LOSS AND POACHING?
Habitat loss is the greatest threat to animals today, and therefore to all species. THE REGENERATION OF THE LAND IS THE PRIME FOCUS OF OUR "MIXED-MODEL CONSERVATION SYSTEM, IT GOES HAND IN GLOVE WITH THE REGENERATION OF THE WATER, RIVERS AND FORESTS.
There is also a terrible threat to our wildlife from poachers. Species like elephants and rhinos are on the brink of catastrophic extinction. The devastation caused by poachers absolutely must be prevented if we want our children to grow up to see the stunning biodiversity we so love and still enjoy.
The best way to do that is with a dedicated community of Maasai who live in, work in and love the ecosystem of the Mara. We have created a deeply committed team of dedicated, well trained rangers, all members of the local communities. Our rangers go through extensive training in all aspects of conservancy management, scouting, and protection, maintaining close connections with their communities, with fellow rangers in the surrounding conservancies and the Kenya Wildlife Service. We maintain thorough surveillance and monitor intelligence for any threats from poaching, and our rangers are well-versed in apprehending poachers.
What about human-wildlife conflict? You're grazing cows, goats and sheep in an area with wandering cheetahs and lions, how does that work?
Human-wildlife conflict has become a major threat to endangered species throughout the world. Since we've grazed our livestock in this ecosystem for thousands of years, we know exactly how to keep our animals safe, and that the best way to avoid conflicts is for the local community to be incentivized to protect the wildlife. The Maasai of Nashulai have been outstanding ambassadors for the effectiveness of this approach: we value the wildlife, and accept that the occasional loss of a goat to a leopard is a necessary trade for our ability to access vast communal grazing lands productively while holding onto the "old ways" of living and cultural heritage of our ancestors.
Since we took down the fences that have in the last 50[?] years carved up the land into small plots and fenced off the roads, loss of livestock to wildlife is now truly occasional, not frequent.
Nashulai is a Maasai-landowner founded and run conservancy, so there's no question of the dedication the landowners have to their cause. The community came together to create Nashulai specifically because we were concerned about the increasing threats to wildlife from habitat loss and poaching, and wanted to take personal responsibility for protecting these animals and the ecosystem we inhabit.
move elsewhere:
Additionally, the landowners who lease their land to be part of our conservancy receive higher lease payments then any other conservancy in the region, providing a critical source of income that sends children to school, pays for medical care, empowers parents and improves the standard of living for everyone who's a part of Nashulai.
Further,in an extraordinary voluntary move, the Nashulai landowners have created a mutual insurance fund from which any farmers losing livestock to predators is reimbursed. In this way no single family will suffer devastating losses. Simultaneoulsy, in recognizing our commitment to interdependent living, we have suspended the traditional retaliatory killing of predators that have attacked livestock.